North Atlantic's 33 years of experience and quality of services makes it a top choice among leading Financial Institutions, Mortgage and Real Estate Brokers, Developers and Builders and Attorneys. We have a proven track record of consistent, friendly, and top quality service in managing the appraisal process.
North Atlantic Appraisal Company, Inc. is an established real estate appraisal firm covering all of Massachusetts and Rhode Island. We also cover New Hampshire on a fee quote basis. .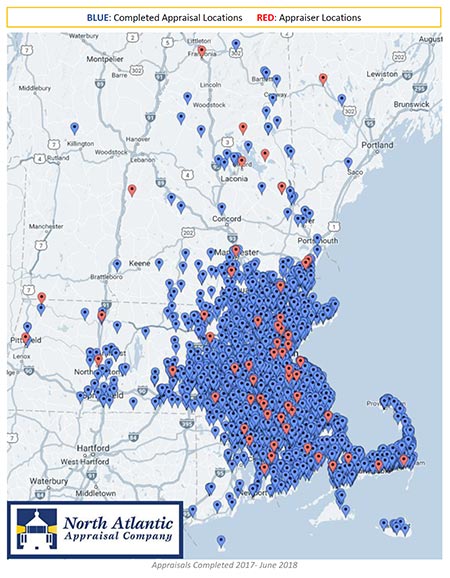 Our principal, Jonathan Asker, SRA, RA, has been appraising for over 30 years and has the breadth of experience and expertise to address residential appraisals for mortgage purposes, and for non-lender purposes such as divorce settlements, estate valuation, as well as high value, complex and coastal properties on the Cape and Islands. In addition he is one of few experts in high performance (Green) properties. Jonathan works as an expert for the Commonwealth's Department of Public Licensure – Office of Prosecution in reviewing appraisal reports recommended for state review. He is also a past president of the Massachusetts Board of Real Estate Appraisers. Call anytime to discuss your particular valuation needs with Jonathan, who will be able to assist you with what you require for your specific situation.
Our investment in training and technology has helped our customers greatly reduce their workload. By offering online appraisal ordering, coupled with automatic report status updates and electronic delivery of the final product, we are able to eliminate the run around and phone tag hassles associated with this process. And since this saves us money as well, we can keep our rates competitive with anybody in the industry.
Through this website, you can perform a number of tasks. Ordering an appraisal is just a click away. Or, spend some time and find out a bit more about the appraisal business. The more you know, the better decision you can make. And check back frequently, as our content is always being updated.
Contact Us
North Atlantic Appraisal Company, Inc.,
office@naacc.com
508-559-0444
PO Box 1191
Marion MA 02738
About Us
As licensed appraisers, we possess the extensive education and credentials to provide the level of dependable home value opinions that banks and top lending institutions require for mortgages.